My name is Matjaž Erjavec, I'm coming from Ljubljana, capital city of Slovenia (near Italy, Austria). I'm love into two things:
my family (wife Marjana, daughter Sara and a cat Nala - which verified chase mouse's)
---
MOTORCYCLE AND MODIFICATION
Nov. 1998
I'm the owner of Honda Shadow 750 American Classic Edition (European version). I bought it 1997, I pass approximately 14.000 km without a problem.
The bag, engine guard (five star's) and the covering for the tank with bag (givi) was bought, the rest of motorcycles I change the way I like it.
The exhaust, now I have two pipes instead of one and there is no more backfire.
I cover radiator and triangle on frame with chrome.
Wind shield and wind deflectors I made myself.
I add extra lights which I paint and cover with chrome.
Over the winter I will change carrier for the lights, move first and last turn signal lights and probably make a new wind shield.
APRIL 1999
I made a new engine guard, luggage rack and I put a cow ornaments on first fender, and I put cow license plate on rear fender.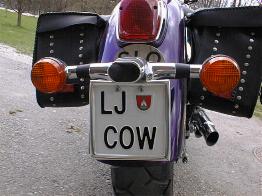 This year I went to a few motorcycle meetings:
1998
Faaker See -17-21. 6. NINETY FIVE years of Harley(Austria)
Indian's meeting in Porec(Croatia)
Twin Horn in Pula(Croatia)
1999
Padova custom show
NEW
My travel to Corfu (Greece)
Wednesday in Ljubljana.
Round Slovenia.
I am a member of a bike club VETERANS in average of members years we are truly veterans :).
If you want to know something about VETERANS write to (Veterans home page is off for now ).
If you want to know something about me, respectively about motorcycle write to me ..